Pullman Regional Hospital's doors are open Monday - Friday, 5:30 a.m. to 6 p.m. Please enter through the Emergency Department entrance during other hours.
COVID-19 Testing in Pullman
A doctor's order is required for all Covid-19 testing at Pullman Regional Hospital. Physicians can fax orders to 509-332-6767.
Hours:
Mon-Fri 10 a.m. to 12:30 p.m. and 1 p.m. to 4:30 p.m.
Sat: 10 a.m. to 2 p.m.
Sun: Closed
By appointment. Please call (509) 336-7359.
Walk-ins taken but may have to wait. (Still need doctor's order)
Thanks to a partnership with Palouse Medical and Pullman Regional Hospital there is expanded COVID-19 testing available through the ReadyCare Respiratory Center (RRC), located at 690 SE Bishop Blvd. Suite D in Pullman, next to Jiffy Lube.
Monday-Friday: 8:00 a.m. – 4:00 p.m.
Saturday & Sundays: 12 noon - 3:30 p.m. (Beginning November 14)
Anyone experiencing upper respiratory, flu-like symptoms, or those who have concerns about COVID-19 exposure is encouraged to seek care at the RRC. Insurance will be billed for these services and those without health insurance can consult with Palouse Medical at (509) 332-2517. This designated, off-site location allows for patients to enter a building to be safely examined, tested, and then to exit through a separate location from the main entry. No appointment or referral is needed. A provider will make an assessment and COVID-19 testing can be performed for diagnosis.
WSU is also providing testing for students, faculty and staff. Read more about it here.
We encourage you to check with your primary care physician if you want to be assessed or have concerns about COVID-19.
COVID-19 Vaccine
Along with other medical groups in the community, Pullman Regional Hospital is participating in the state's program to secure and distribute COVID-19 vaccines. We started receiving shipments of the vaccine in mid-December and began administering to our staff on December 18th. We expect that we will be a distribution point for vaccine to the community at a later date. Whitman County Public Health is working closely with the state in the acquisition, transport, storage and distribution of the vaccine to the Pullman community and surrounding areas. Many logistics are still being worked out at the state-wide level. We will provide updates once we know more.
Cases & Reporting
For the most current information on Whitman County cases and reporting, visit the Whitman County Public Health website. The graph below shows the two-week positivity rate for tests completed at Pullman Regional Hospital's test site. We will update this graph every Thursday.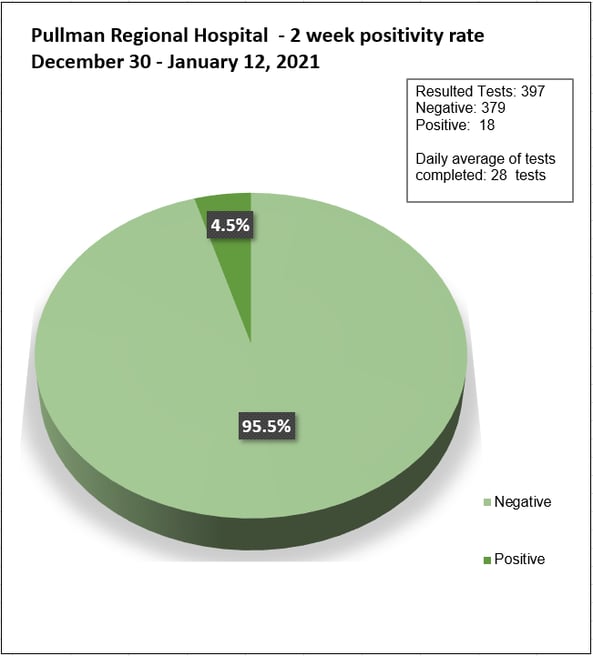 Spread the Facts, Not the Virus
Please wear a mask to help keep our community safe. Did you know you can spread the COVID-19 virus without even experiencing symptoms? The virus spreads through droplets in the air from talking, coughing, and/or sneezing. Wearing your mask will help prevent the spread of germs and keep your friends, family, and neighbors safe. Click here for a visual guide to face masks.
Our new video series, Spread the Facts, Not the Virus covers a variety of COVID-19 topics featuring Dr. Gerald Early, Chief Medical Officer. Check out the videos below.
Services Update
All services are now available! We are providing all services, including elective surgeries, following Washington state guidelines. We will continue all precautionary measures to safely provide care and services during the COVID-19 pandemic, including patient and staff screening and masking, PPE for staff, and continued safety and infection control measures. Telemedicine and in-person appointments will continue to be available. We encourage you to get care when you need it and not delay appointments. Please speak to your doctor and/or clinic to determine what is best for you.
Don't Delay Care
It is so important to not delay your care. We know you may be hesitant about coming to the hospital or your doctor's office. Patient safety remains our highest priority. In-person and Telemedicine appointments are available. Please call your doctor to see what options are best for you. We are taking heightened cleaning and disinfectant precautions, including:
Requiring all patients to wear a cloth mask in the hospital and in all buildings on the campus. We will provide a mask if you do not have one. Click here for more information about wearing masks.

Visitor restrictions remain in effect.

Waiting rooms have been reconfigured to provide six feet between chairs.

Patients will be asked screening questions upon arrival.

Strict and regular wipe-down policies are in practice using hospital grade disinfectant and EPA approved agents against Coronavirus.
Is it safe to have surgery yet?
When you should move forward with your surgery will depend on many factors. You and your doctor should discuss all the pros and cons. To start, you may want to ask:
Will my condition get worse if I delay surgery?

Are there other treatments I can try if I decide to wait?

Am I in a high-risk group for complications from COVID-19?

How long will I be in the hospital?

Will I be able to have visitors?

Are there special steps I'll need to take once I'm back home?

What follow-up visits will I need after surgery?
If you and your doctor agree that you should have surgery now, you can trust our team. We will take steps to protect you from COVID-19. For instance:
You will be tested for COVID-19 as all inpatients are tested.

All patients and staff must wear masks and other protective gear.

All patients and staff are checked for COVID-19 symptoms.

All surgery patients are tested for COVID-19 before their procedures.
We're grateful for your patience and understanding. And we want you to know that your health and safety always come first.
COVID-19 Pullman Regional Hospital Fund
We are so grateful for the incredible generosity shown by our community and hospital supporters during times of great need for testing equipment, supplies, and support for hospital operations. People have stepped up in remarkable ways through donations, flowers for our staff, notes of appreciation - even pizza for our nurses and physicians.
Learn more about our COVID-19 Emergency Fund and how donations of all kinds are making a meaningful difference.
Visitor Policy & Changes to Operations
Pullman Regional Hospital continues to follow CDC guidelines along with WSHA and WA State DOH recommendations to protect our patients, staff, and community from potential exposure to COVID-19. We continue to review and update our policies and information for support persons and visitors.
All patients and support persons will be screened and asked to wear a mask upon entry. Any support person who has signs or symptoms of COVID-19 will not be allowed to enter the facility.
Due to changes in community transmission of COVID-19, visitation guidelines will be updated as indicated.
Current visitor guidelines are as follows:
Med/Surg/ICU: No visitors are allowed at this time with special considerations given to pediatrics, end-of-life, and those with physical or developmental needs requiring a support person.

Pediatric patients

in the hospital may have (2) visitors that are limited to parents or guardians.

End-of-life patients may have up to (2) visitors that are limited to the same 2 individuals.

COVID-19 patient areas

: Visitors do not enter these rooms, except in very special circumstances/end-of-life care.

Clergy: patients will be allowed access to clergy as requested.

Consideration will be given in allowing clergy visits in compassionate care situations including end-of-life care for COVID-19 positive patients.

Birthplace:

A Healthy patient's visitors are limited to the same 2 individuals throughout the patient's entire stay. (Spouse/partner and one other designated individual)

Same Day Services: No visitors are allowed at this time with exceptions for pediatrics (1 adult may accompany the child) and those with physical or developmental needs. Discharge instructions with be reviewed over the telephone or upon pickup of the patient.
Emergency Department: No visitors are allowed at this time with exceptions for pediatrics (1 adult may accompany the child) and those with physical or developmental needs. Discharge instructions with be reviewed over the telephone or upon pickup of the patient. Special circumstances will be considered for those situations that require it.
Laboratory/Imaging: No accompanying friends or family except those special considerations to pediatrics and those with physical or developmental needs.
Summit Therapy and Health Services: Patients being treated at Summit Therapy and Health Services will be allowed to have a family member, support person or caregiver present with them during their treatment if it is necessary for educational purposes and for follow through at home. In all other instances we are asking that the person accompanying the patient please wait in their vehicle so we can limit the number of people in our waiting room and our facility.
***If a patient is transferred between departments during their stay, consideration will be given to each department's process for those patient's with exceptions.
STUDENTS:
Pullman Regional Hospital has reaffirmed our commitment to students enrolled in a healthcare degree program requiring school-sanctioned clinical hours and rotation. (Examples: Nursing, Imaging, PT/OT/ST, Respiratory, Laboratory Medical Technologist, CRNA). Health-care professional students will resume clinical rotations in first quarter 2021.
NO

student job shadows will be allowed at this time or any student volunteering until further notice.




Community volunteer programs at Pullman Regional Hospital continue to be temporarily suspended at this time due to COVID-19.
Thank you for your understanding and continued support during the Coronavirus pandemic.
Hospital Operations:
The main hospital doors are open Monday-Friday, 5:30 a.m. to 6 p.m.

Access outside of these times is through the Emergency Department entrance.

The Red Sage Cafe is closed to the public.

All in person classes, support group meetings, educational presentations, community outreach programs and outside meetings held in the hospital's conference rooms are cancelled until further notice.
How to Prevent COVID-19 Infection
Wear a face mask. Click here for more information about masks from the CDC.

Maintain social distancing (6 ft).

If you're sick, stay home. Call your primary care physician if you suspect you have the virus.

Wash your hands often with soap and water for 20 seconds or use alcohol-based hand sanitizer.

Cover your mouth and nose with a tissue or your sleeve – not your hands – when coughing or sneezing.

Clean your home, workspace, shared items and other frequented locations.

Avoid unnecessary contact with sick individuals.
Symptoms of COVID-19
According to the CDC, anyone can have mild to severe symptoms that may appear 2-14 days after exposure to the virus. Click here for an updated list of symptoms from the CDC. Older adults and people who have severe underlying medical conditions like heart or lung disease or diabetes seem to be at a higher risk for developing more serious complications from COVID-19.
Click here to see how COVID-19 symptoms compare to other common conditions. If you develop symptoms of respiratory illness and are concerned you may have risk factors for COVID-19,
please call your primary care provider first
. Clinic staff will be able to complete a risk assessment over the phone and provide guidance on next steps, which may include arranging testing if needed.
If you have respiratory symptoms, please call your doctor before you leave home so staff can be prepared to care for you when you arrive. The following options can reduce unnecessary healthcare visits and prevent transmission of respiratory viruses:
Advice lines, patient portals, on-line self-assessment tools, or nurse triage line if provided by your health insurance or provider office.
The CDC has released a helpful Coronavirus Self-Checker tool to help you make decisions about seeking appropriate medical care.
How We're Preparing for COVID-19
Preparing for responses to disasters is not new to hospitals. Emergency preparedness training is a year-round activity that is done within Pullman Regional Hospital and throughout the state's facilities, system and our region.
Pullman Regional Hospital regularly treats patients with a variety of infectious diseases. These patients are isolated and treated in appropriate spaces by trained staff using specialized equipment. We have negative pressure rooms used while evaluating and treating patients with airborne diseases such as COVID-19.
When there is a threat of a disease that could cause a surge of patients, each individual hospital steps up its preparedness and coordination activities. Hospitals share information and best practices but also deploy the specific strategies that will work best in their own facilities.
We are working with the Whitman County Public Health Department and the Whitman County Emergency Management, along with other entities like Washington State University, Pullman Police Department, Pullman Fire Department, Pullman School District, Whitman Hospital & Medical Center, Pullman Airport to coordinate information and preparedness.
More information:
Pandemic Management Coordinating Center (PMCC) Updates
Click here to view all of the PMCC Updates From March - December 2020