2018 was quite a year! We launched several exciting new projects, collaborated with community partners, participated in a variety of events, and brought 352 new babies into the world! While we can't fit all of the amazing parts of 2018 into one short blog post, here are a few of the highlights:
The Best of 2018
Broke ground on new Same Day Services building
This summer, construction began on the new 10,000 square foot Same Day Services building to meet the growing demand for outpatient services. In the past five years, the volume of outpatient cases has grown by 42 percent. In June, we held the Groundbreaking Ceremony (pictured below) with hospital leaders and community stakeholders to mark the start of construction. Since then, crews have worked tirelessly to get it to where it is today. Want to see how far we've come in 5 months? Watch the time-lapse video.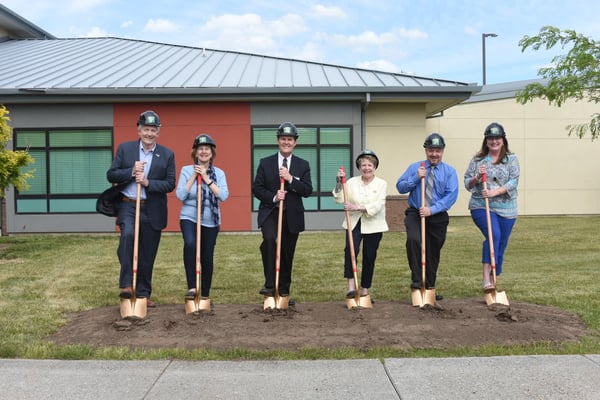 Welcomed eight new physicians to our staff
This year we were fortunate to welcome eight new physicians to our staff. From the Emergency Department to Pediatrics to Family Medicine, our new providers are valuable assets to the hospital team and look forward to taking care of you and your family.
Meet the new providers of 2018 (pictured top left to right bottom):
Stacey Clark - Emergency Department; Vinod Mehta - Pulmonology & Sleep Medicine; Mark Winkler - Hospitalist; Shiquan Liu - Hospitalist; Maricarmen Shields - Pediatrics; Mary Chiu - Emergency Department; Patrick Klempel - Emergency Department.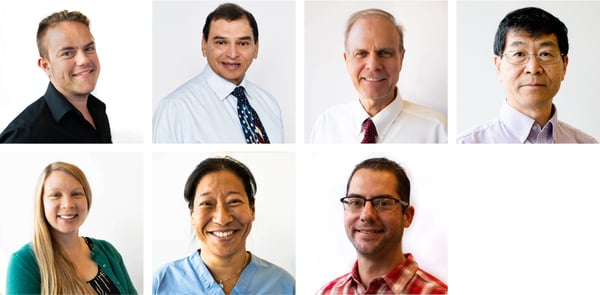 Launched The Health Podcast and hospital E-Newsletters
In an effort to stay on top of digital trends, we were excited to launch our new Health Podcast and hospital e-newsletter: Inside Excellence.
The Health Podcast – Whether you're on-the-go or winding down in the evening, podcasts are an easy way to listen to the information that's important to you. Each episode of The Health Podcast features our very own physicians and health providers answering the most common questions on a variety of health topics. From hearing loss to sports medicine, we've got you covered. Check out all the episodes we released so far. Interested in a topic we haven't covered yet? Submit your topic suggestions here.
Inside Excellence – If you're more of an email person, we also launched a monthly e-newsletter to keep subscribers up-to-date on general hospital news, important updates, and a variety of health information. With emails only sent out once a month, you won't need to worry about an overflowing inbox. Subscribe here.
What we're looking forward to in 2019
Addition of Palouse Pulmonology and Sleep Medicine
We're always looking for ways to better serve our community. We're excited to announce a new clinic set to open in January: Palouse Pulmonology and Sleep Medicine! Dr. Mehta arrived this fall and is eager to start seeing patients struggling with asthma, sleep apnea, and conditions affecting the lungs and respiratory tract. Learn more about Palouse Pulmonology and Sleep Medicine here (need link).
Continuing excellence in Obstetrics with the Women's Choice Award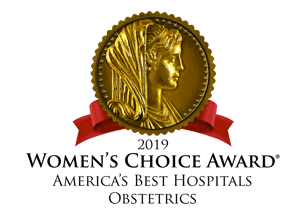 We're excited to have received the 2019 Women's Choice Award® as one of America's Best Hospitals in Obstetrics for the 6th time! This award signifies that our BirthPlace is in the top 17 percent of 2,778 hospitals offering obstetrics in the United States. What an honor it is to receive this award year after year. We are so grateful for the opportunity to take care of expecting parents and help welcome their little ones into the world. Read Nicole's story about how our Birthplace and Emergency Department took care of her 3-week old son, Judah, when he spiked a 101 F. fever in the middle of the night.
Opening of the New Same Day Services Building
Sure, breaking ground in 2018 was exciting, but in 2019 construction will be complete and we'll finally get to open the doors to the new building! The new building is expected to open sometime in April or May. The number of outpatient rooms will expand from our current 12 to a total of 22, and will be equipped with state-of-the-art medical equipment. "The expansion will allow us to meet a growing trend to provide outpatient services in healthcare," said Jeannie Eylar, R.N., Chief Clinical Officer. "The additional space will increase efficiency, provide enhanced room layouts and patient experience to one of the busiest areas of our hospital." Make sure to follow us on Facebook to stay up-to-date with construction updates and opening announcements.
Next Era of Excellence
We're looking ahead to the Next Era of Excellence at Pullman Regional Hospital. Growth combined with the desire to create a better patient experience through coordinated care is driving the vision for the Next Era of Excellence, which includes four key components:
Constructing a new 45,000 square foot health pavilion to house a rural residency program, physician practices, and other outpatient services
Implementing a centralized, electronic medical record that connects provider offices with the hospital and each other
Remodeling current hospital space to create efficiencies and improve patient experience
Updating medical equipment to keep pace with cutting-edge technology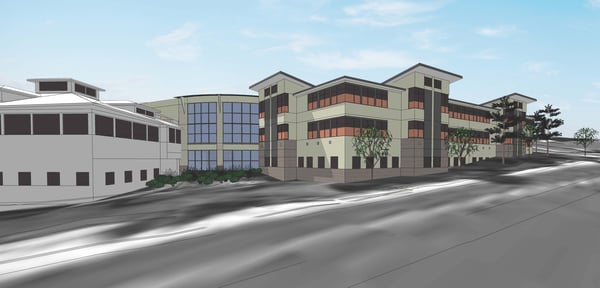 "The Next Era of Excellence is a vision for how we can address the opportunities in our community to expand and reshape how patients experience healthcare delivery services. Our goal is to bring together as many healthcare services as possible into a single location and digitize medical records so we can create a centralized repository of information that doctors throughout our community can access." – Scott Adams, CEO, Pullman Regional Hospital
Learn more about the Next Era of Excellence.
What a year. Thank you to our trusting patients, supportive Pullman community, faithful volunteers, dedicated physicians, and hard-working staff for being a part of such a fantastic 2018. We are so very grateful to be able to serve our community, and we look forward to experiencing an even better 2019 with you all. In the meantime stay updated on all things Pullman Regional Hospital by subscribing to our monthly e-newsletter!