Our commitment to the community: Ensuring access to medical care
Despite the challenges of being a rural hospital, Pullman Regional Hospital is committed to continuing to provide access to medical care for the community. One of the ongoing national trends, and one that Pullman Regional Hospital is facing, is physicians seeking an employment arrangement versus practicing independently or being part of a private practice.
The move to employ physicians started in 1997, when Pullman Memorial Hospital moved from a contracted model for Emergency Department physicians to an employed model staffed 24/7. Previously, contracted local physicians and out of town physicians were on call for emergencies. Moving to an employed model dramatically improved quality and access to emergency medical care.
A series of similar changes followed over the next 20 years up until today, including: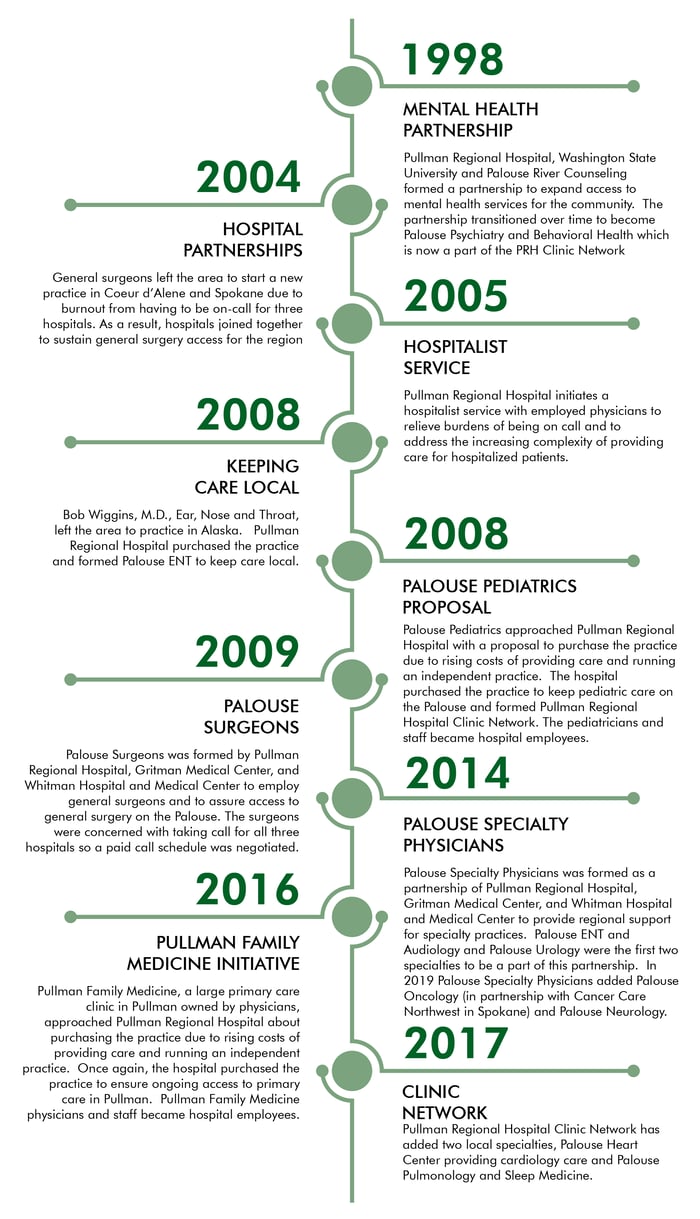 A major consideration for physicians seeking employment with hospitals is the continual decline in physician payment from insurance companies and government programs. Most providers of care are not paid the full cost of providing that care. This remains true when physicians become employees of hospitals. Consequently, virtually every hospital-owned physician practice in the United States is subsidized by the hospital they are affiliated with. On a national basis, this subsidy averages just over $70,000 a year per physician. This is one of the costs we believe is an investment in our community.
Of all the providers in the Pullman community, 47 are employed solely by Pullman Regional Hospital or in partnership with area hospitals and 52 are independent providers.
The following practices are part of Pullman Regional Hospital's Clinic Network
Pullman Family Medicine
Palouse Pediatrics
Palouse Heart Center
Palouse Pulmonology & Sleep Medicine
Palouse Psychiatry & Behavioral Health
Regional partnerships needed to provide access to care
Working together with the other two hospitals in the region is necessary in order to provide specialty care. We do not have the population needed to support specialists to serve one city alone; therefore, we take a regional approach to access, whenever possible, through Palouse Specialty Physicians. Working together, we are in a better position to fund this care that residents would normally travel out of the area to receive.
Palouse Specialty Physicians practices
Palouse Surgeons
Palouse Oncology & Hematology
Palouse Neurology
Palouse ENT & Audiology
Palouse Urology