As the year comes to an end, we're not only celebrating a successful 2019…we're also celebrating the 15th Anniversary of being in our current building on Bishop Boulevard. Prior to 2004, Pullman Memorial Hospital was located on the Washington State University campus. While convenient for students, the building was too small and outdated to be able to provide the level of care we aimed to deliver, and the location was inconvenient for the non-student population. In 2000, after three tries, a community bond was passed to help build a new hospital that better suited our needs as a top hospital in a growing community. In the last 15 years in this building, we've been able to utilize cutting-edge technology, built an additional state-of-the-art fourth operating room, and opened a new Same Day Services expansion. Now, we're moving even further into the Next Era of Excellence.
Take a peek at a newspaper clipping from 2004 when the "new" hospital was still being built.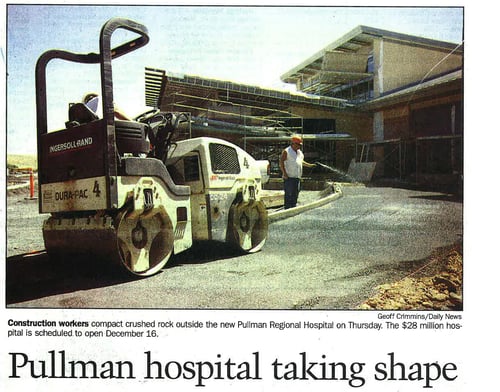 Looking Back on 2019
While the last 15 years have been nothing short of amazing, so has 2019! From unveiling the new Same Day Services expansion to delivering more than 360 new babies into the world, it's hard to believe how much happens in just 365 days. Here are some of the highlights:
Moving Forward with the Next Era of Excellence
Thank you to everyone who voted on Pullman Regional Hospital's Proposition 1. The vote was incredibly close and very nearly met the 60 percent majority vote needed. It was an affirmation that the community supports Pullman Regional Hospital. Our needs remain the same and we will continue to work to meet them – through an internal focus on creating greater efficiencies and through ongoing support from the community. Thank you again for your support and look forward to continuing communications as we move in to the Next Era of Excellence.
Opening Two New Specialty Clinics
This year we were thrilled to open two new services on the Palouse, thanks to a regional partnership between Gritman Medical Center, Pullman Regional Hospital, Whitman Hospital & Medical Center, and Cancer Care Northwest. The neurology and oncology clinics are both located in Moscow, but serve patients throughout the region. Palouse Neurology is staffed by Dr. Sarita Said-Said, Board-Certified Neurologist. Palouse Oncology & Hematology is staffed by Dr. Srijana Rai, Board-Certified Oncologist.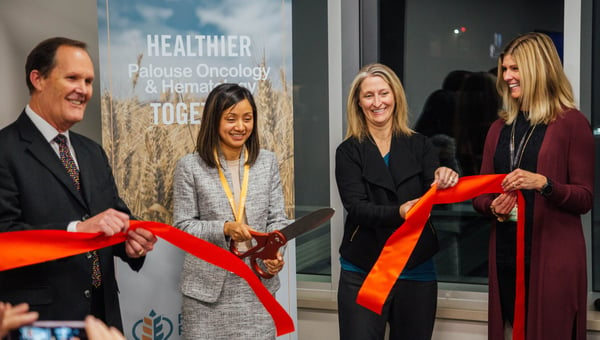 An Open House was held on November 5th to kick off the new Palouse Oncology & Hematology Clinic. The CEOs from Pullman Regional Hospital, Gritman Medical Center, Whitman Hospital & Medical Center, and Cancer Care Northwest all spoke during the program, followed by an introduction and ribbon-cutting ceremony featuring Dr. Srijana Rai. After the ribbon-cutting, tours of the new facility were given to the community.
Welcoming Five New Physicians
We were fortunate to welcome five new physicians to our staff in 2019. From General Surgery to Oncology and Neurology, our new providers are valuable assets to our team and look forward to taking care of you and your family.

Pictured left to right:
Guillermo Modad, MD – Emergency Medicine; Sarita Said-Said, MD – Neurology; Nancy Panko, MD – General Surgery; Helen Carlson, DO – Palouse Medical; Srijana Rai, MD – Hematology/Oncology.
Expanding our Partnership with WSU
Our partnership with Washington State University has always been a priority; but this year took it to a whole new level. As the designated Official Hospital of Washington State Athletics, we have the privilege of being the primary source of hospital services for WSU students and student athletes. "Pullman Regional Hospital continues to be an excellent healthcare partner for WSU Athletics. This partnership is an integral piece of our goal to provide world class healthcare to our student-athletes every day," said Sunday Henry, Washington State University Senior Associate Athletic Director for Athletic Medicine.
We were also proud to recognize Dr. Tingstad for serving 20 years as the WSU Athletics Team Physician. He was celebrated on field at the November 16th football game against Stanford University.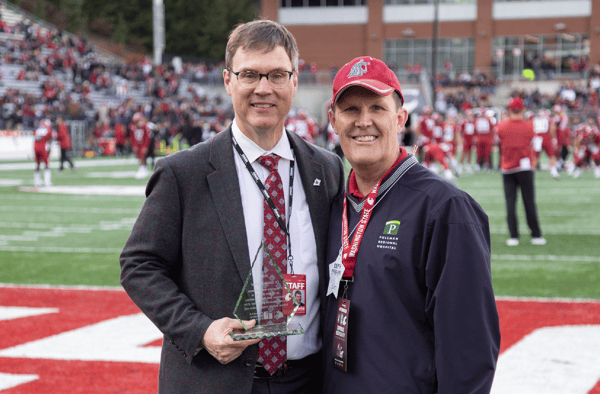 Off the field, we made great strides toward establishing a Family Medicine Rural Residency Program with the WSU Elson S. Floyd College of Medicine. In 2019, Dr. Jonathan Espenschied, Associate Dean for Graduate Medical Education at WSU, in collaboration with the Pullman Regional Hospital Foundation, secured a $750,000 grant from HRSA and $5 million from Premera Blue Cross to help fund new residency programs in rural and underserved areas like Pullman. Pullman Regional Hospital is working to provide the 7,000 square feet of space needed for a rural residency program on the hospital campus.
Thanks for Making 2019 Memorable
What a year. Thank you to our patients, staff and physicians, volunteers, and the Pullman community for being a part of such a fantastic 2019. We are so grateful to be able to serve our community, and we look forward to an even better 2020. In the meantime, stay updated on all things Pullman Regional Hospital by following us on Facebook, Instagram, or Twitter, or by subscribing to our bi-monthly e-newsletter!